Not to be confused with the Charbtek-28 in Modern Combat 5: Blackout
The Charbtek-28 is an assault rifle that appears in Modern Combat 4: Zero Hour.
The Charbtek-28 is the second-last assault rifle for purchase. It costs 95,000 in-game credits. Compared to most weapons, it has more recoil but deals much more damage and has a bigger magazine size.
Statistics
Edit
Game statistics
Edit
Wiki statistics
Edit
Attachments
Edit
EAS stock
Ergonomic Grip
Vertical Grip
TAC2 Grip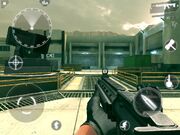 It is the heaviest assault rifle in Modern Combat 4: Zero Hour.
Ad blocker interference detected!
Wikia is a free-to-use site that makes money from advertising. We have a modified experience for viewers using ad blockers

Wikia is not accessible if you've made further modifications. Remove the custom ad blocker rule(s) and the page will load as expected.