The Flare Gun is a weapon from Respawnables. It is from the Winter Wonderland update and is one of the most powerful weapon in the whole game.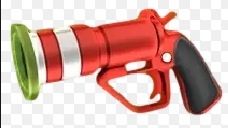 Overview
Edit
It can only bought using In - App Purchases and can only be bought along with the Santa Set in a bundle. It has one bullet (Flare) in a clip and boasts high agility and range. It also has excellent accuracy. It is by some considered OP (Over - Powered).
Statistics
Edit
Game Statistics
Edit
Damage : Very Good (3 bars)
Range : Good (2 bars)
Accuracy : Excellent (4 bars)
Agility : Excellent (4 bars)
Wiki Statistics
Edit
Damage : Excellent
Rate Of Fire : Very Good
Ammo Count : Bad
Agility : Excellent
Accuracy : Very Good
Ad blocker interference detected!
Wikia is a free-to-use site that makes money from advertising. We have a modified experience for viewers using ad blockers

Wikia is not accessible if you've made further modifications. Remove the custom ad blocker rule(s) and the page will load as expected.