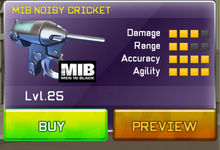 The MIB Noisy Cricket is a weapon in the game The Respawnables. An in - App Purchase is required to unlock this weapon.  The Noisy Cricket based on a weapon from the movie series - MIB (Men In Black). It is a weapon that by many, is believed to be an overpowered weapon (OP). Some reviews  for this gun can be found on YouTube.
The gameplay of this gun is exactly the same as it looks in the movies, except that the firepower and the recoil for the gun have been reduced heavily. It has only one bullet in a clip. It takes about 2 seconds to reload, which is long enough for the enemy to take aim, and damage the player using it. This is probably the only disadvantage for this weapon.
Statistics
Edit
In-Game Statistics
Edit
Damage: 3
Range: 2
Accuracy: 4
Agility: 4
Wiki Statistics
Edit
Damage: Insane 
Rate Of Fire: Horrible 
Ammo Count: Horrible 
Agility: Excellent 
Accuracy: Moderate 
Enchancements Available To This Weapon
Edit
Nothing can be attached to enchance this weapon. But certain clothing can maximize its performance in accuracy. 
It has no auto aim, unlike most other weapons in the Respawnables. It is like all the explosive weapons - they don't have auto aim.
Once, it needs 2 shots to kill a player with this weapon, but later, in the next updates, in close range it is an insta kill weapon.