The OPS65 is a weapon in Modern Combat 4: Zero Hour. Although it has low range and accuracy, it's a great close-up weapon. 
The OPS65 is the first Submachine Gun available for purchase. It costs 30,000 credits. Like all Submachine Guns, it is best used in close range. Due to the price, it is used a lot by players. 
Attachments
Edit
It was originally called the 'UMPG45' or the 'OPS55E' (wrote on the left side of the gun). It was changed to 'OPS65' afterwards.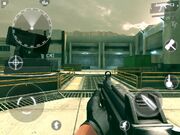 Ad blocker interference detected!
Wikia is a free-to-use site that makes money from advertising. We have a modified experience for viewers using ad blockers

Wikia is not accessible if you've made further modifications. Remove the custom ad blocker rule(s) and the page will load as expected.