The TZ4-Compakt is a weapon that appears in Modern Combat 3.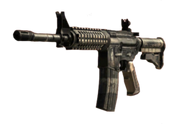 The TZ4-Compakt is a weapon that is unlocked at level 46. It features moderate damage, along with a high fire rate and good capacity. It is reccomended to use this as an assault or support weapon.
Statistics
Edit
Damage: 30-24
Range: 199+ meters
Rate of fire: 600 RPM
Capacity: 30
Rank unlocked: 46
Attachments
Edit
Red Dot Sight
Holographic Sight
ACOG Scope
Thermal Sight
Stock
Grip
Flash Hider
FMJ Rounds
Extended Mags
Ad blocker interference detected!
Wikia is a free-to-use site that makes money from advertising. We have a modified experience for viewers using ad blockers

Wikia is not accessible if you've made further modifications. Remove the custom ad blocker rule(s) and the page will load as expected.