The Volkhov-12 is a weapon in Modern Combat 4: Zero Hour. It is an automatic shotgun, and the last shotgun to be unlocked in MC4.
The Volkhov-12 is a shotgun. Like all shotguns, it is best used in Close Quarters. It costs 70,000 credits. Although it is the weakest shotgun in terms of damage, it is actually a perfect choice for CQC battles.
Attachments
Edit
Statistics
Edit
Game statistics
Edit
Wiki statistics
Edit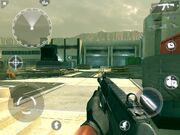 It was originally named 'Taiga-12' before the game was released.
The Sering 9 from Modern Combat 5 works similar to the Volkhov.